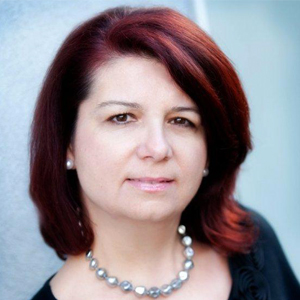 Manuela Gruber Hersch
Manuela was born and raised in Salzburg, Austria. After finishing an apprenticeship in International Logistics, Manuela decided to travel and work in Canada as a Live-in Nanny for one year in 1985, under the Foreign Domestic Movement Program. She fell in love with the country and decided to immigrate and make Canada her home.
Manuela worked in the Tourism Industry and earned a Diploma in Tourism, before starting one of Canada's largest agencies, International Nannies & Homecare Ltd. in 1996.
Manuela's key strength is her specialized knowledge of the Caregiver Industry in Canada. She is also one of the founding directors of ACNA Canada – Association of Caregiver & Nanny Agencies Canada. Manuela is frequently quoted in the Canadian media about the Foreign Caregiver Program.
Because of her passion for the Caregiver Industry and her love of Canada, Manuela became a Regulated Immigration Consultant in 2014. She founded Apex Immigration Canada with the intention of developing a practice in which client care is paramount and expectations are exceeded by supplying professional, accurate and practical advice.
As an immigrant herself, Manuela is aware of the difficulties that clients may face during the immigration process and understands how stressful it can be. She is dedicated to assisting her clients in achieving their goal of immigration and making the process as smooth and enjoyable as possible.